We know that a dog is much more than a dog — they're a member of the family and a best friend for life. And when the source of your new best friend has such a big impact on their health, behavior and well-being, finding the right one should never be left to chance.
That's why we're making it easy to connect with good breeders, shelters and rescues that have your and your new dog's best interests at heart, so your pup has the best chance at a healthy and happy life.
Together with our world-class veterinary and academic experts (who you can meet below), we've created the Good Breeder, Good Shelter and Good Rescue standards. These standards cover everything from health and behavior practices to policies to their dogs' environment. Every member of our community must pass our screening process and meet or exceed our standards before joining Good Dog. Here's how we do it.
Good Breeders
Careful screening based on science
Every breeder on Good Dog is individually screened and recognized for responsible breeding practices. Before being approved to join Good Dog, we speak with every breeder personally and carefully review their knowledge, practices and policies.
Good intentions and the right knowledge
A lot of skill, investment and experience goes into being a good breeder. We make sure that breeders don't just have their heart in the right place but are also well-versed in the right practices around health testing, vet care and socialization. And we always evaluate a breeder's practices based on the needs of their breed.
Our standards are just the beginning
Good Breeders often go above and beyond our standards as they consider their pups family and take pride in providing the very best for their dogs. The breeders on Good Dog want to do everything they can to provide the best lives for their dogs with the right families.
Read more about what makes a Good Breeder
Read our Good Breeder Code of Ethics
Good Shelters and Rescues
Putting the well-being of dogs first
Shelters and rescues do incredible work and Good Dog is proud to support them in their missions to save homeless animals. While most shelter and rescue organizations do everything they can to support their animals and are consistently working to improve, we make sure to only highlight those that meet our standards, which are designed to ensure they are putting the well-being of their dogs first.
Commitment to animal care
All of our recognized organizations prioritize the welfare of the animals in their care, including animals in foster homes or other offsite locations. Many of the organizations on Good Dog go above and beyond these basic standards to ensure that their dogs are healthy, happy and prepared for success in their new homes.
Transparency and financial discipline
The members of our shelter and rescue community not only provide the right support for their animals but also meet a high standard for transparency and financial discipline. Transparency around these practices helps hold organizations accountable while giving adopters the information necessary to make their own choices.
Read more about what makes a Good Shelter or Rescue
Read our Good Shelter and Rescue Code of Ethics
---
Support from leading dog welfare and veterinary experts
The Good Dog screening process was created in close consultation with Dr. Brian Greenfield, DVM, and Dr. Candace Croney, PhD, two leading veterinary and academic experts in both animal welfare and dog breeding. We believe in conducting a science-based evaluation of breeding practices, and we're proud to work with Dr. Croney and Dr. Greenfield to achieve that.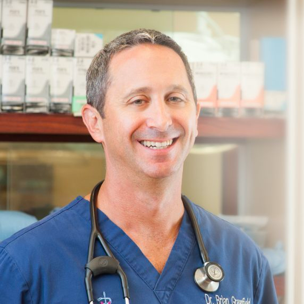 Dr. Brian Greenfield, DVM
Dr. Greenfield is one the nation's leading experts in canine reproduction, breeding management, and pediatric care. He has seen more reproductive cases than almost anyone in the country and is a sought-after expert in the field. Dr. Greenfield was instrumental in developing Good Dog's standards and screening procedures, with a focus on ethical reproductive practices, veterinary care, health testing, and breeder policies.

Dr. Candace Croney, PhD
Dr. Croney is director at the Center for Animal Welfare Science at Purdue University and a professor of animal behavior and well-being. She's a leading academic expert on the welfare of breeding dogs and their puppies and has published numerous studies on the physical and behavioral health of breeding dogs and puppies. Dr. Croney helped develop Good Dog's measurement of dog environment, physical health evaluation, socialization, exercise, enrichment and training evaluation.